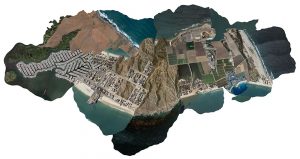 The DSI Portfolio Awards is a shared platform providing three recent graduates of photography with financial assistance in printing a professional portfolio. This year's awardees share a strikingly sophisticated and nuanced eye with a keen awareness of their concept and its context. Collectively each crystalizes their unique finds of specific investigations. Their discerning and original choice of final output formats complement and underscore their work's intent. My appreciation to my fellow jurors, Debra Clomp Ching and Stephen Marc for their thoughtful and engaged contributions to the selection process.
Dylan Everett recently graduated from Brown University and is now completing an MFA from Rhode Island School of Design. Structural Photography, is his series of aerial topographies. Seductively these engaging abstractions are at first a pleasing amalgam of color, form and texture. With time the viewer comprehends the actual residential housing mazes, agricultural industries and strip-mines within the capture. Everett concretizes our complicity in the development of this humanly altered landscape. Stephen reflects on this compelling work; "A strong and unique concept, containing a mystery, consistent vision, and bold use of white space."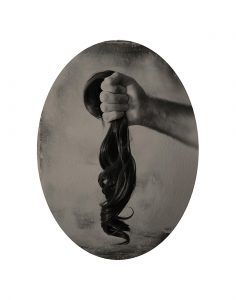 Michelle Rogers Prtizl has studied photography and earned three art degrees, most recently as a MFA graduate of Lesley University College of Art and Design. She is widely exhibited and known for her use of alternate and historical processes. In Not Waving But Drowning, whose title references Stevie Smith's poem of the same name, Pritzl explores Fundamentalist Christianity's tenets that serve to control and manipulate women. Her image titles reference Kate Chopin'sThe Awakening, and are a tribute to the artist's autobiographical freedom from this restrictive belief system. The combination of the collodion process and an oval frame in collaboration with contemporary digital media practices mirrors her conscious choice to evolve, taking some aspects of the past while exercising her self-determination and embrace of the modern.
It was an insightful honor being one of the jurors for the DSI competition, and congratulations to the three award recipients. The process was challenging and rewarding due to the range and depth of the images submitted. I wish all the best to each of the entrants, and I hope that our paths cross again. – Stephen Marc

©Emily Schiffer 2018
Emily Schiffer is a mixed media artist and photographer interested in art's ability to initiate community engagement and foster social change. Kin is an intimate portrayal of family life. These unposed portraits capture moments in her interracial and cross-culturally blended family. Her images hold a space between documentary narrative and documenting feeling. Stephen's comments: "Each could stand alone but tie in an intimate narrative. I was impressed with these documentary style portraits because of the alternating interactions, environmental details, and dynamic lighting that project a mood of domestic warmth."
Postscript
Award winners will receive $1250 in printing services from Digital Silver Imaging. The Jurors and Digital Silver Imaging would like to thank everyone who submitted work. Although we had our lowest number of entries for the 2017 award, we feel that the quality of the work was exceptional. In this slideshow, we'd like to recognize a few of the photographers who made excellent work, but unfortunately, did not win
[photospace_res]