Instant Image Archive Service
The Instant Image Archiving Service digitizes your film, print or artwork at a uniform 150 megapixels in a fraction of a second. We can make digital files of your work as quickly as we can safely prepare them for capture – transparencies/slides, negatives, prints and flat artwork can all be reproduced with the highest standards of accuracy.
At the heart of the Instant Image Archiving Service is a PhaseOne Camera mounted with a specialized lens designed to capture either film or reflective media. The camera and lens are mounted to a custom made system that allows for reproductions up to 20×24". The object being reproduced is illuminated by an LED lighting system that has both a Color Rendering Index (CRI) and a Color Quality Index (CQI) of 98 out of 100 points. This means that you can receive the drum scan quality digital reproductions of your original at an affordable price. Follow this link to see how our system compares to other digitization methods, and read our Instant Image Capture – White Paper 2-8-22 for a complete overview.
Benefits 
Extremely accurate/high quality light source
One large file size eliminating the hassle of various file sizes in your digital archive
Minimal exposure of your original to heat
Hardware and software designed to work together in the same color profile
Minimal handling of originals, no fluid coating like in drum scanning
The fastest way to create a digital file from your original
Captures entire image, no cropping
Originals - QTY
35mm up to 8x10
Contact Sheet
for Roll Film
Photo Prints
up to 20x24
1-4 ea.
$50
$60
$60
5-9 ea.
$40
$50
$50
10 -19 ea.
$30
$40
$40
20 - 49 ea.
$25
$36
$36
50 - 99 ea.
$20
$30
$30
100-199 ea.
$18
Call
Call
200-299 ea.
$16
Call
Call
300-499 ea.
$14.50
Call
Call
500+ ea.
$12
Call
Call
Prices for strips of film of the same format. Single frames and excessively curly film will incur an additional fee.
Inbound & Outbound Shipping in Waterproof Case
Contact us and we will send you a waterproof Pelican Vault hard case with all the return shipping labels included. Place your film in the case and send it to us for safe and secure transport. We'll return your film in the same way, that's two round trips . Minimum order of 25 image captures required, US shipping only.
Inbound & Outbound Shipping in Waterproof Case – 25 Capture minimum $50
Inbound & Outbound Shipping in Waterproof Case – 100+ Captures Free
File Transfer Services & Flash Drives
We can upload your file online for free, copy to a DSI 64gb thumb drive $15, or copy scans to your portable hard drive. Shipping charges may apply, we prefer WeTransfer for online uploads.
Digital Retouching / Photoshop
Our technicians have years of experience and can perform miracles with Photoshop. Image restoration, retouching, or tricky color adjustments are no match for our skills. Retouching is billed at $100/hour in 15 minute intervals.
Old, scratched, or dirty negatives will be billed for extra spot/dust removal.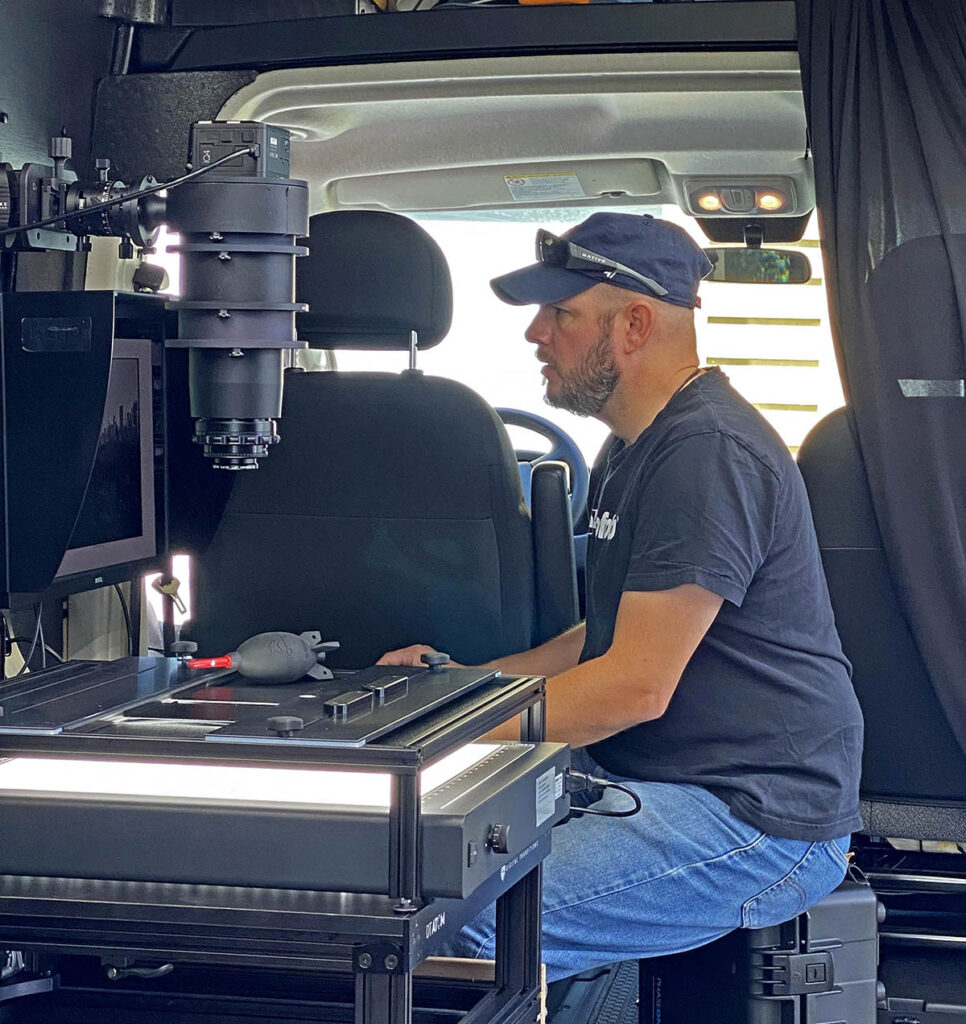 On-site Image Preservation
Your film archive is your legacy. Digitizing that archive creates a valuable record, and a potential source of ongoing income. This raises the question, what is the best way to digitize a photographic archive? Scanning is a time consuming and expensive process, especially when you consider the many hours of labor. If you outsource the digitization, you will have to entrust your valuable images to a scanning service and take the risk of transporting hundreds or thousands of originals. In addition, your archive will be entrusted to the service provider without your supervision for the length of the process.
The Digital Silver Imaging On-site Image Preservation service offers a better, safer and hassle-free way to digitize your archive. We will come to your location, provide our own trained technician, and use our state-of-the-art digital capture system to quickly and safely digitize your archive. We use a specially designed copy support and PhaseOne camera that allows our service to quickly digitize a large quantity of images.
Here's how it works. Together we estimate the time needed to digitize your archive. We give you a quote based on that estimate. Once we agree upon the dates we send our trained technician to your studio. The technician sets up the equipment and the digitization begins. Our techs do all the digitization you simply provide them with the organized originals. In a few days the digitization of your archive is complete.
Advantages of the Digital Silver Imaging's On-site Image Preservation Service
Our quality image capture is made at a consistent high resolution.
We can digitize an entire archive in days not months.
Exceptional value, per capture price is a fraction of a high resolution film scan or drum scan.
Safety. Because we come to you, your archive is not moved or put at risk.
If you'd like a quote or a call back with your questions please contact us. info@digitalsilverimaging.com.