We have had the good fortune to print Barry Schneier's 1974 Bruce Springsteen concert images for many years. Barry's images are moving and historic. They provide a record of the discovery of Springsteen and the declaration by rock critic, Jon Landau, "I saw rock and roll future and its name is Bruce Springsteen." 
The images have been exhibited at venues like the Rock and Roll Hall of Fame and Monmouth University as well as sold through the Morrison Hotel Gallery. However Barry wanted to tell the entire story of that special night at the Harvard Square Theater in Cambridge Massachusetts, and what better way than in a book. This is where the Kickstarter campaign, Bruce Springsteen. Rock and Roll Future. The Book. starts.
To create the book Schneier partnered with Backstreets Magazine's Chris Phillips. Following the lead of many other photo books they decided to skip traditional publishers and go directly to the Springsteen fans via Kickstarter. To make his Kickstarter special, Barry wanted to offer more than just the book so he came into the lab and developed a plan to our DSI Digital Silver Prints® as a premium for higher pledge levels. Of course we said yes and we worked on a price that would allow Barry to meet his Kickstarter goals.
Barry finally decided to offer a variety of images at different sizes depending on the pledge level. The highest pledge level would receive a 16×20 DSI Digital Fiber Print® of his Sound Check Take Two image and a signed copy of the book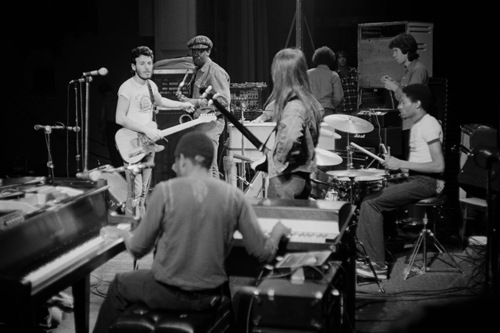 Barry's Kickstarter Project is a Hit
At the writing of this post, Bruce Springsteen. Rock and Roll Future. The Book., Kickstarter campaign has 7 days to go and will exceed its campaign goal by over 150%. 14 backers have pledge at the highest level $575 (book + 16×20 print), and other levels offering prints have over 148 backers. That makes almost as many backers choosing a book + print pledge as book alone. After all the book is all about the photographs, and it makes sense that an actual print adds a tremendous amount of value to a highly collectable book.
Work with us to make your project a success
Digital Silver Imaging is happy to work with photographers and artists to provide printing for Kickstarter, and other crowd sourced projects. We know that crowd sourcing is about promotion and bringing art directly to the public. We want to support you in your crowd sourced idea whether that's a book or some other project. Contact us anytime to start the conversation.
Did you know that Digital Silver Imaging perfected the DSI Digital Silver Print® with a Kickstarter campaign? Follow this link to read all about it.