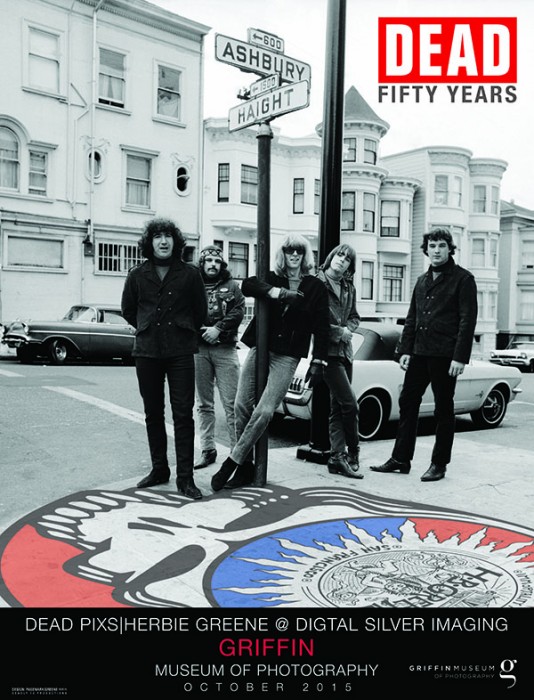 Dead 50 Years, is an exhibition of photographs of the Grateful Dead from their inception. Herb Greene, as a young San Francisco photographer, befriended the band in the 1960s and created some of the era's most iconic images of the Dead and Rock'n Roll.
This exhibition will feature Grateful Dead photographs selected by Greene himself. Not to be missed by Dead fans, and photo lovers alike, Dead 50 Years will showcase Greene's keen eye for making impactful portraits. Not just a photographer-for-hire, Herbie was a friend and collaborator with the performers he photographed.
Herb Greene was recently featured and profiled in a special LIFE publication on The Grateful Dead's 50 Year anniversary. He has photographed many Rock greats including, Janis Joplin, Jefferson Airplane, Sly Stone,  The Pointer Sisters, Jeff Beck and Led Zeppelin.
Meet Herbie Greene on Thursday October 1,  6-8:00 PM
Live Music provided by the Sorry Honeys and
Hors d'oeuvres by The Loading Dock
Special Saturday Hours, 10/10, 12:00-4:00 PM
Herb Greene will be on hand to sign a limited edition print created from his famous image of the Grateful Dead on the corner of Haight and Ashbury.  This limited edition print will be available for purchase through the website and at our gallery, 9 Brighton Street, Belmont, MA.
Limited Edition Print – Dead 50 Years
Exclusively for this exhibition, designer Don Pasewark and Herb Greene have designed a limited edition print. Archivally printed on acid-free Hahnemühle Photo Rag, Deckle Edge paper. Signed copies in two sizes, 17×22 and 13×19, edition of 50 each. To purchase click on tab below.
17×22 Dead 50 Years Print $150 Dead 17×22
13×19 Dead 50 Years Print $100 Dead 13×19
Exhibition Dates: Mon-Fri 9-5, September 21 – October 10, 2015,
Location: 9 Brighton Street, Belmont MA
Opening: Thursday October 1,  6-8:00 PM
Special Saturday Hours, 10/10, 12:00-4:00 PM