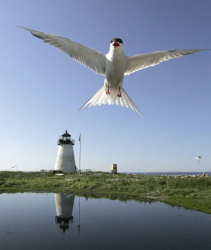 During a recent phone call with photographer Mark Wilson, I learned that he has been an avid birder since he was a young man.  I discussed the upcoming exhibition we are having of Roger Tory Peterson's photographs and Mark shared with me that RTP had been a big influence on him early on in his birding exploration.  Mark also photographed RTP on two occasions for features in the Boston Globe.
Mark was a staff photographer for the Boston Globe for many years.  He and his wife, Marcia Wilson, started Eyes on Owls in 1994 as an education enterprise to bring live owls into schools and groups to help us learn more about these fascinating creatures.
We are please to have Mark come and be our honored gallery presenter for the Roger Tory Peterson exhibition.  Mark will discuss RTP and his work and how he influenced Mark.  Mark will also share some of his won work with us and bring two live owls for the presentation.
Gallery Talk and Live Owl Demonstration
When: Wednesday Sept 26th 7-9PM
Where: Griffin Museum Gallery at Digital Silver Imaging 9 Brighton St Belmont MA
Cost: Free
RSVP on Facebook or info@digitalsilverimaging.com