Howard Schatz refers to his studio as a research laboratory. Before a single image is
captured an extensive production is engineered with details on the sun, wind, and water
conditions, exact placement of invisible markers and an artful application of industrial
strength make-up. Only then do Howard, his assistants, stylists and models strap on
weights, hyperventilate and jump into a 92 degree pool of crystal clear water for a timed
minute of silence and rapture; repeatedly, all day long.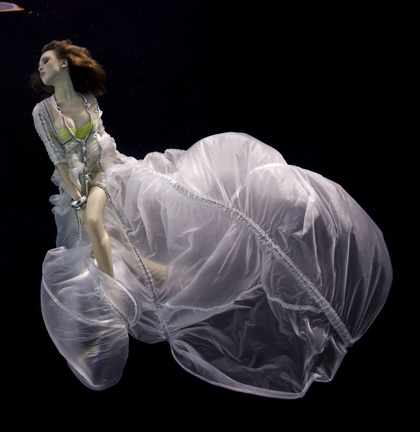 Listening to Howard describe his work is as delightful and incredulous as the imagery
created in his Underwater Study Series. The Griffin Museum/DSI gallery was beyond
SRO with people sitting in the aisles and up the staircase to view his slideshow
presentation and hear his gallery talk. On view through November 6th are five images
from H2O his third book published from this body of work.
A swimmer, competitive tennis player and until the 1990's, a retinal surgeon, Schatz,
has an eager curiosity and intrepid passion. With joy and determination he manipulates
the limits of biology to capture the fancy of his relentless imagination – underwater.
Riveted by the properties of light and water that mirror and distort Howard sees infinite
possibility.
Vanity Fair features his ongoing series; In Character: Actors Acting. With lens posed
inches from an accomplished actors face, he immortalizes their instantaneous
interpretation of his scripted synopsis written to illicit their intense emotion. Howard
loves to be on the observing edge, catching creation and life with awe and wonder.
Fresh off the press last week is his 18th book. With Child is the culmination of 20
years of photographing women in all stages of pregnancy. Defying gravity he explores
the living sculpture that is gestation. Schatz has met yearly with these mother's and
their children for a portrait. Each child is given age appropriate questions exploring
how they feel about their life at that stage. A hybrid of conceptual art and humanistic
therapy these missives are collected in a time capsule without being read or published.
Effectively, Harold is mirroring pregnancy itself.