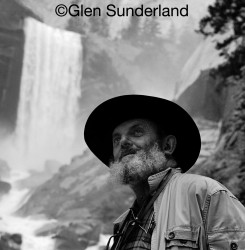 A new show of Ansel Adams' work opens tomorrow at the Peabody Essex Museum in Salem, Massachusetts.  "At the Water's Edge" will be on view from June 9 – October 8, 2012.  This master photographer will surely draw large crowds – he's the Monet of the photo world. His photographs are always beautiful to look at, especially in a gallery setting.  So, if you're in the area this summer, be sure to make PEM a stop on your visit.
Stephen D. recently contacted us regarding a collection of negatives he received from his friend, Glen Sunderland.  It seems Glen was friends with Ansel and has quite a collection of portraits he took of Ansel Adams over the years.  We are not making any outrageous claims here, but we are enjoying seeing some of these images, maybe for the first time.
Attached is a photo of Glen Sunderland and the card that Ansel gave to him. Glen was one of world's top unknown photographers. He was friends with Henri Cartier-Bresson, Ernst Haas and Ansel Adams and many more. He was born in Phoenix in 1923, served in the air force in WWII, he was also a professional basketball player in the 1950's. He joined Lockheed in 1961 and became their top photographer until he retired in 1991. He left 200,000 images of his work.