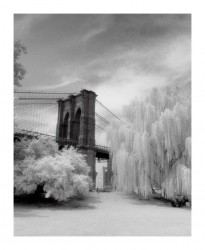 Recently posts of Digital SIlver Imaging's "Big Silver Gelatin Prints" Kickstarter have appeared on a number of blogs and web sites. Among those posts an excellent recap of our project was written by Eileen Fritsch on her blog Great Output. The site is a valuable source of information and news geared toward professional and fine art photographers.  The frequent posts are well written and concise. No fluff on this site.
John Neel, author of Rethinking Digital Photography, and frequent contributor to the site Pixiq also posted a story about "Big Silver Gelatin Prints." In reference to our Kickstarter, Neel wrote:
"This is a great photographic Kickstarter project that will allow giant sized black and white images to be printed from digital files. Who wouldn't like a giant black and white image that was produced on real gelatin silver paper. IMHO, there is nothing quite like a real B/W silver based photograph. I for one, look forward to the possibility of having a few of my images printed this way."
Pixiq is a gigantic site with articles on almost everything including, equipment reviews, techniques and commentary. Most of the contributors to Pixiq are published authors and true experts.
Great Output and Pixiq are both sites worthy of a bookmark. As a photographer you can never have enough good information.