Exporting files from Adobe Lightroom for printing is not always an intuitive process. We have put together this tutorial to show our customers how to export files to create the best prints possible using our services. To enlarge an image double click/right click on the image in the tutorial.
Step 1: Select the image(s) you would like to export.

Step 2: Go to Menu>File and select Export

Step 3: The Export menu will appear. Moving from the top of the dialog box to the bottom select Hard Drive from the Export To: options

Next choose the destination folder for your exported files. We recommend you create a folder specifically for this purpose. name it something that will make it easy to find; such as, DSI Files to Send. Once selected click Choose.
After you have chosen your destination folder, DSI Files to Send, still under Export Location under Existing Files: select Ask what to do.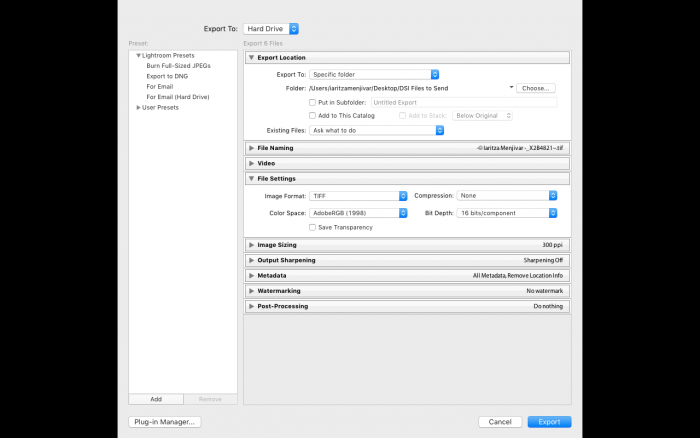 Note: File naming settings is left up to you, disregard Video settings.
Step 4: Proceed to File Settings, this is a very important step.  In the menu options select the following: Image Format>TIFF, Color Space: AdobeRGB (1998), Compression:>None, Bit Depth:>16 bits/compression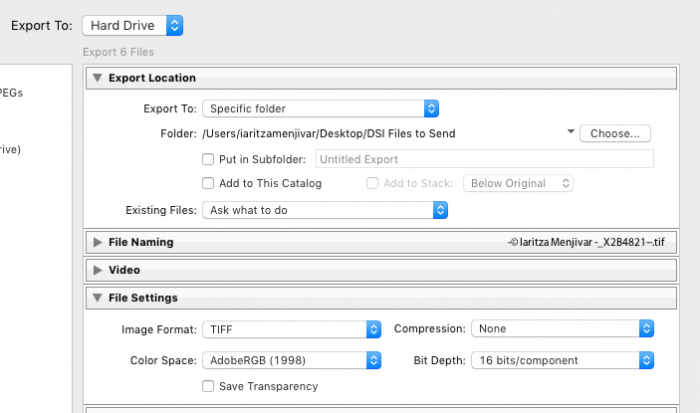 In following menus the settings should be as follows:
Image Sizing – Resolution should be between 280 to 300 pixels per inch, do not check Resize to Fit:
Output Sharpening – leave blank
Metadata – your choice
Watermarking – leave blank
Post Processing – After Export>Do nothing
This is what your Export Location and File Settings menu should look like when completed. Click Export to complete.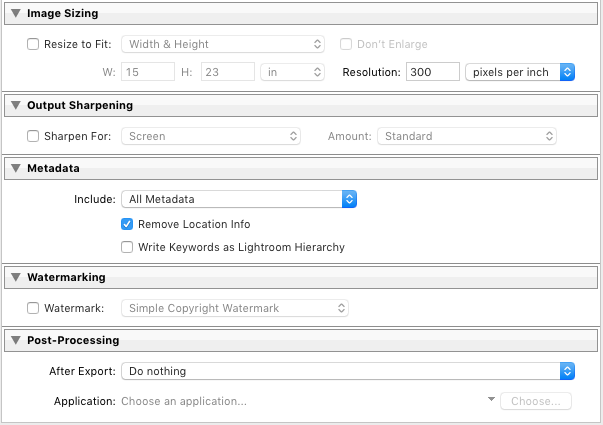 Lightroom will then process your export bringing you back to your Lightroom  Catalog.  On the top left of the application you will see a loading bar showing your image export's status.
Step 5: Once finished exporting, your images will be in your selected folder and ready to upload/send to Digital Silver Imaging. If you are using our Value Print service with ROES simply select this folder, DSI Files to Send, from the ROES app.


Step 6: After your photos are finished exporting, they should be in that folder you created, DSI Files to send.

Now your Files are ready to be sent!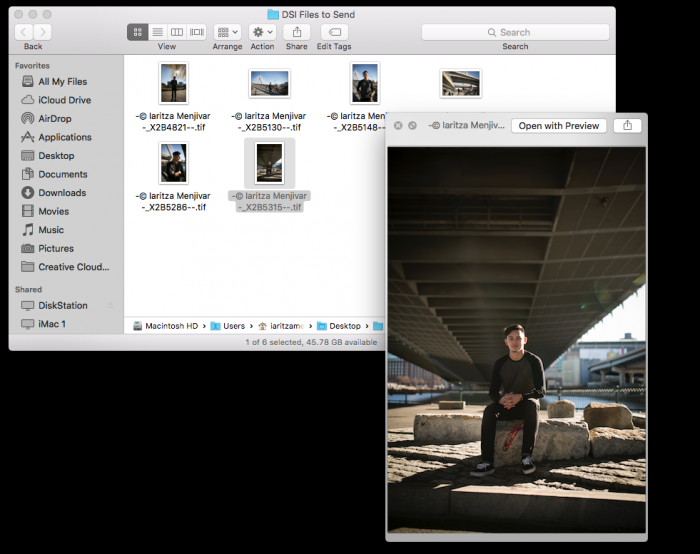 For more information on our printing services follow these links:
Custom DSI Digital Silver Prints® – Black & White Silver Gelatin Prints
Museum Quality Color Pigment Prints
Value Priced Prints using the ROES Application – Black & White + Color Pigment Prints
Print Sample Promotion – A great way to try our printing services