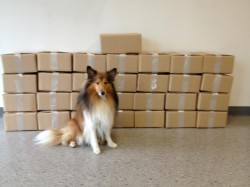 Because of notices that public transportation will be halted, we have sent our team home to weather the storm. We will monitor email and update our facebook page with news. Please continue to place orders and upload files as we will swing back into action ASAP.
Our regular shipper, UPS, will not be picking up today. We apologize for those of you waiting for prints or software ordered during Photo Plus. Those software orders are ready to go and ZuZu is patiently waiting for our UPS pickup.
For all our friends in the storm's path we wish you good luck and hope that Sandy is merciful.
Best, DSI