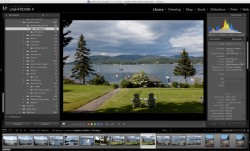 In this Library Module intensive, we will cover many of the features that make Lightroom 4 an exceptional Digital Asset Manager. Our purpose in teaching module specific workshops is to have each student learn features in depth and to leave the workshop with a true understanding of the how the program can enhance your workflow.
We will have time to practice each step in the process, so you will walk away with hands-on knowledge. We will cover the best workflow practices of importing, renaming, using the ratings and color system for organizing, keywording, as well as using presets to your advantage and the incredible power of Collections and Smart Collections.
We will also delve into the batch Export feature and learn how to make your own export presets to streamline your process. Learn how to seamlessly work between Lightroom and Photoshop.
Main topics covered:
• Import process
• Organizing – making a folder structure that works for you
• Renaming
• Presets
• Metadata and Keywording
• Using ratings and filters
• Compare and Survey modes
• Collections & Smart Collections
• Searching using filters – how to find anything!
Date: Saturday May 11, 2013
Time: 11-5 PM 
Location: Digital SIlver Imaging, 9 Brighton St. Belmont, MA 
Fee for this course is $149*
Kathy Tarantola
For over two decades, Kathy Tarantola has been sought after as a commercial and editorial photographer working throughout Boston and New England. Kathy is an experienced instructor having conducted photography workshops across the US and abroad. She is an Adobe Certified Expert in Lightroom a respected member of the photo community and has served as Co-president and board member of the New England chapter of the American Society of Media Photographers (ASMP).
*Refund Policy: Because our instructors commit their time to workshops and space is limited, our refund policy is as follows: Cancellations 2 weeks prior to the workshop will receive a full refund. Cancellations a week before the workshop date will receive a 50% refund. All other cancellations will not receive a refund but may apply 50% of the workshop fee to a future workshop of the same or greater price. You must notify us of your cancellation or inability to attend via email. (info@digitalsilverimaging.com).