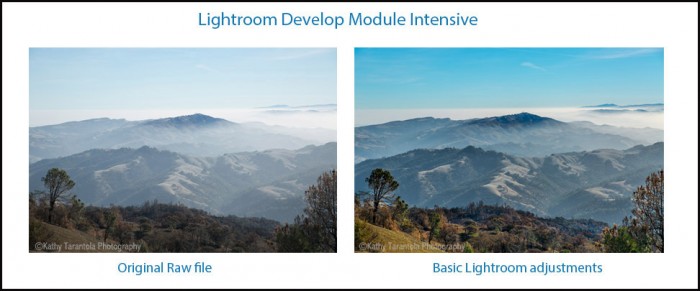 In this Develop Module Intensive Workshop, Adobe Certified Expert Kathy Tarantola, will cover many of the features that make Lightroom 5 the best choice for non-destructive processing of your digital images. (Although the focus will be on Lightroom 5, users of Lightroom 4 will find most material applicable.)
Participants will learn how to evaluate your photographs and make creative processing decisions for the best possible quality. Working on your own images, you will walk away with hands-on knowledge and the confidence to enhance all of your work quickly and with stunning results.
We will cover the new features of Lightroom 5 including: 
Radial filter, Smart Previews, Enhanced Spot Removal tool, Visualize Spots, Upright Auto Perspective Control and more.
And we will discuss:
• Perfecting tone and color in each photo
• Applying sharpening and noise reduction
• Correcting lens distortion and chromatic aberration
• Cropping
• Spot, Red Eye, Graduated Filter, and Paintbrush tools
• HSL, Split Toning
• Using virtual copies
• Making great black and white conversions
• Creative presets – use LR templates or create your own
• Soft Proofing for printing
Our purpose in teaching module specific workshops is to have each student learn features in depth and to leave the workshop with a true understanding of the how the program can enhance your workflow.
Date: TBA
Time: 11-5 PM 
Location: Digital Silver Imaging, 9 Brighton St. Belmont, MA 
Fee for this course is $149*
This workshop has been rescheduled date TBA
For over two decades, Kathy Tarantola has been sought after as a commercial and editorial photographer working throughout Boston and New England. Kathy is an experienced instructor having conducted photography workshops across the US and abroad. She is an Adobe Certified Expert in Lightroom a respected member of the photo community and has served as Co-president and board member of the New England chapter of the American Society of Media Photographers (ASMP).
*Refund Policy: Because our instructors commit their time to workshops and space is limited, our refund policy is as follows: Cancellations 2 weeks prior to the workshop will receive a full refund. Cancellations a week before the workshop date will receive a 50% refund. All other cancellations will not receive a refund but may apply 50% of the workshop fee to a future workshop of the same or greater price. You must notify us of your cancellation or inability to attend via email. (info@digitalsilverimaging.com).