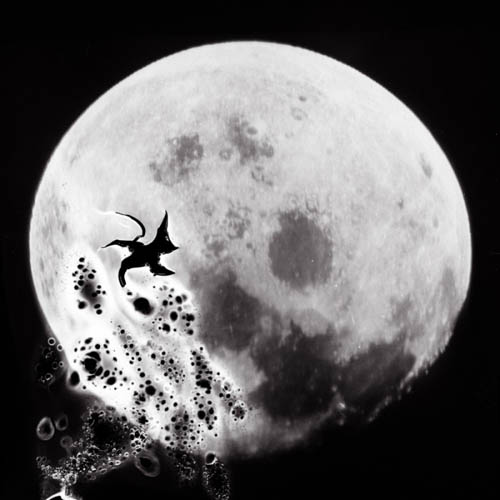 Photographer Michael Donnor is on a quest for perfect imperfection. Those fortunate to attend his recent artist talk at Panopticon Gallery were given insight into his thoughtfully precise creative process. Embracing limitation, while purposely ridding himself of distractions, Donnor courageously sought solitude, slowed down by working with medium format film, and consciously used his time for experimentation and contemplation. The reward is two stellar bodies of work that reflect his organic and reflexive workflow, Notes on a Paper Universe and Silent Moan.
Donnor proceeds as a miner panning for gold, sifting aspects of identity, to cull for raw material including facade and persona. He does not pre-visualize the shot but "carries an image forward" by instinctively following the path his concept reveals. Donnor's steadfast focus on being present reveals that which is not, aspects of the before and the after.
An artist who choses to work with the medium of photography, he does not create a pre-fabricated set but rather engages with an idea and attempts to control the ensuing chaos. He observes, responds then reflects. Interested in "building imagery", his process involves manipulating the negative by hand with scratches, chemicals, wax and fire. To complete his thesis portfolio of 50 x 50 selenium toned prints, he turned his basement floor into a developing tray, employing mops and buckets to process the prints.
The silent, luminous moon features prominently in our solar system, as well as in Donnor's imagined celestial constellations. The relationship between our time and place in space is the theme revisited in both bodies of work. Donnor found the moon a willing metaphor. John Updike expresses an analogous sentiment in his poem, Half Moon, Small Cloud; "It's thereness is as mysterious as ours." 
Inspired by Joan Fontcuberta's subversive weaving of fact and fiction, Donnor plays with the relativity of truth. HIs focus in these series is on understanding the interrelatedness of self, time, and the impermanence of both. As a result his work encourages us to do the same. Donnor agrees with Wallace Steven's 'willing belief in fiction' and in Carl Sagan's conviction; "We are the way the cosmos experiences itself." Donnor postulates; "Is it there if we aren't there to experience it?"
Donnor's images are on exhibit at the Panopticon Gallery until September 9, 2014.
J. Sybylla Smith
Smith is a curator and educator with twenty five years experience in the photographic arts. Smith has curated 17 exhibitions and created related programming featuring the work of 70 international photographers for a satellite gallery of the Griffin Museum of Photography. Smith has held adjunct professor positions at Hofstra University and Emmanuel College. She is a guest lecturer at The School of Visual Arts, Wellesley College, Harvard University and the School of the Museum of Fine Arts. An enthusiastic portfolio reviewer and thesis advisor, Smith consults individually with artists on concept development.