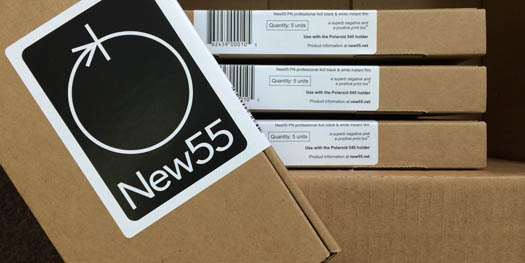 Our friends at the New55 FILM are working with us to create 4 great promotions. If you are not familiar with the New55 PN and 1SHOT Ready Loaded Sheet Film here is a brief description of each.
IMPROVED POSITIVE – NEW LOWER PRICING!
New55 PN
This is a newly formulated INSTANT 4×5 PN film that gives you a superb instant black & white negative and positive print. Each box contains 5 sheets and are intended to use with Polaroid 545, 545i, and 545 pro instant film holders.
1 Box of New55 PN Price 65.00
NEW55PN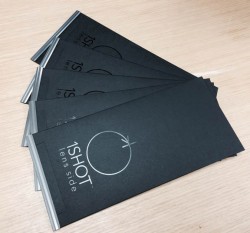 1SHOT Ready Loaded Sheet Film
1SHOTs are traditional 4×5 black & white film loaded into a "ready load" that can be used with a 545 instant film holder. 1SHOT eliminates the need for loading and unloading film holders. Ease of use and reduced dust make this product a welcome addition to the large format film universe. 1SHOT comes loaded with 100 ISO AtomicX film, 5 per box.
1Shot Atomic-X 5 Sheets Price 35.00
1SHOT
Save on our Bundles with Scanning, Processing or Printing
1 Box of New55 PN* + 3 Hi-Res Scans** [$145 value] – New Price $90  NEW55PN w/Scans
1 Box of New55 PN* + $50 Printing Credit [$135 value] – New Price $90  NEW55PN+$50
1 Box of 1SHOT Ready Loads + Prepaid Film Processing + Free Inbound Shipping [$80 value] – New Price $55 1SHOT/Processing
1 Box of 1SHOT Ready Loads + Film Processing + 5 Hi-Res Scans** [$170 Value] – New Price $90 1SHOT/Proc/Scan
HURRY – SUPPLIES ARE EXTREMELY LIMITED!
*Please note that the New55 PN is a new product and still in the development phase. Every purchase of New55 PN brings the New55 FILM closer to fulltime commercial production of the product. The New55 PN is sold without warranty.
Find out more about New55 FILM by visiting their site and blog.
**We scan at maximum resolution 2040ppi and your file size will be approximately 160mb.  No spotting or retouching included with our Value Scans.
SEE OUR OTHER HOLIDAY PROMOTIONS HERE