PhotoPlus International  Conference + Expo is an annual event at Digital Silver Imaging. We go to speak one-on-one with the public and to see what is going on in the world of photo. If you could not attend here are our observations on the 2013 PhotoPlus Expo.
Trends – The development of high-end, high quality camera and lenses continues. Not surprising is the rise of Sony in the marketplace. While both Canon and Nikon drew large crowds and dominated the front of the hall, Sony held a powerful place in a very large exhibit right up front. Also attracting large crowds was Leica. Leica has managed to transition many of its traditional film shooter over to digital while attracting new shooters to its ranks. The Leica M Monochrom is reaching cult status with many photographers despite the many critics who said a black & white only digital camera was absurd.
We also noticed quiet a few booths featuring camera accessories and digital hardware made in China. That product was as you'd expect, attractively priced but not high in quality. Although these vendors appeared to have steady traffic their wares did not draw the crowds as popular established high quality brands. As always photographers appreciate a value but are reluctant to give up quality.
New and Notable – Making their debut at this year's show was Macphun Software. We were happy to see that many of the people that made Nik Software the great product now at Macphun. Macphun showed three products. Intensify Pro an application that enhances, sharpens and improves structure of an image. It has 16-bit image processing with RAW support. A very cool application called Snapheal Pro that uses a proprietary technology to remove unwanted objects from your image in well… a snap. And Creative Kit, which is both products in a bundle. Another nice thing about these software applications is they can be used as a plug-in  or a standalone product. We are currently trying the FREE trial download which we will review at a later date.
We all did a double-take when a person walked by with a DSLR attached to the shoulder strap of his backpack. If you are a backpacker, mountain biker or skier you would realize that this is the perfect way to carry your camera! Later that day we found out how that DSLR attached to the mystery man's back pack strap, the Peak Design Capture Camera Clip. This brilliant little mechanism is a locking quick release that can be attached to a strap, belt, or mounted to a tripod or monopod. Peak Design also makes what they call a POV kit that is ideal for a GoPro camera, eliminating having to use GoPro's cumbersome chest strap or helmet mount. The product is new to the market and will be available online and from most camera stores.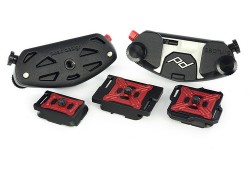 Making a big visual impact were the booths of our inkjet paper suppliers, Canson & Hahnemühle. Both companies had beautiful prints on display made on their excellent product. We were honored to provide the Canson booth with an entire wall of images by our customer Alicia Savage. We were also impressed with Hahnemühle's Bamboo paper. Bamboo has a natural white tone paper base and is made out of 90% renewable bamboo fiber. In fact we liked Bamboo so much that it is now a paper option for our custom inkjet prints.
We spoke with a lot of great people at the Expo and saw some old friends. We always value the time we have speaking with all types of photographers at PhotoPlus. If you missed the show make sure to put it on your calendar for next year.