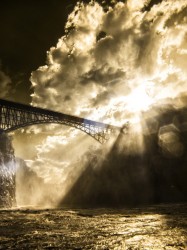 Learn effective strategies to build your own photographic workflow. This class will take you from downloading your images through final output. Along the way we'll cover workflow management like how to organize and keep your files safe. You'll learn the essential adjustments in Adobe Camera Raw (the engine for Adobe Lightroom and Adobe Bridge), techniques for creating rich HRD images, and how to use Photoshop to give your images that finished professional look. We will also cover filter programs such as NIK Software and discuss advanced topics like masking, selective image manipulation, Infrared retouching, and much more. This class is ideal for people wanting to organize their libraries, create better looking files, and reduce both time spent behind the computer and frustration commonly associated with post production!
A laptop or portable computer (iMac), loaded with Photoshop, that you can bring to the workshop is required.
Date: Saturday September 27, 2014
Time: 11:00 AM – 5:00 PM
Place: Digital Silver Imaging, 9 Brighton Street, Belmont MA 02478
Fee for this workshop is $149
Instructor Bio
After graduating from the School of the Museum of Fine Arts in 2009, Kyle spent 3 years honing and refining his skills as a photographer and production manager for Mainframe Photographics; a commercial and biomedical photo studio in Boston. After Perler left Mainframe he open the doors of his own professional photographic business specializing in head shots, social portraits, commercial events, boutique weddings, and photo education. Kyle is also a photographer for the esteemed Fazio Media Team, photographing national and international events and meetings. Kyle teaches and mentors for both beginning and professional photographers. He is just returning from a 2 month photographic expedition in Africa, capturing wildlife and endangered species. He is also coauthoring a new book with Laurie Klein on Digital Infrared Photography to be published in the spring of 2015 by Amherst Media.
*Refund Policy: Because our instructors commit their time to workshops and space is limited, our refund policy is as follows: Cancellations 2 weeks prior to the workshop will receive a full refund. Cancellations a week before the workshop date will receive a 50% refund. All other cancellations will not receive a refund but may apply 50% of the workshop fee to a future workshop of the same or greater price. You must notify us of your cancellation or inability to attend via email. (info@digitalsilverimaging.com).