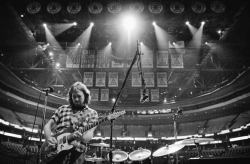 The title of our current exhibition at the Digital Silver Imaging Gallery says it all. This exhibition covers more than 50 years of Rock and Roll photography from the Beatles and the Rolling Stones first US tours to Lady Gaga and Phish.
Given the confines of our gallery it was difficult not to have floor to ceiling images but gallery director and curator J. Sybylla Smith has produced a stunning show. Just a few of the highlights of the exhibition include:
• Early Beatles photographs from Astrid Kirchherr, including John, Paul, George, Pete and Stuart!
• Mike Mitchell's recently discovered images of the Beatles first US tour.
• Intimate Rolling Stone images by the late Bob Bonis
• Never before shown studio portrait of Led Zeppelin by Herb Greene
• Ron Pownall's sensual onstage portrait of Blondie's Debbie Harry
• BC Kagan's photos of vintage Cars and a boyish Billy Idol
* Pearl Jam's sound check at the Boston Garden made iconic by Brian Babineau
• Steven Tyler of Aerosmith being Steven Tyler in beautiful B&W as captured by Melissa Mahoney
• Ethereal play of concert lights at Phish and Radiohead and My Morning Jacket concerts by Ryan Mastro
• Kerry Brett's elegant panoramic studio image of the Dropkick Murphys
• Face-to-face portrait of Lady Gaga by Mitch Weiss 
This exhibition opens Thursday December 8, 2011 and runs through January 28, 2012. A gallery talk will be held on January 26 at 7:00 pm. Speaker(s) TBA (we are working on something really cool so keep an eye out for this event).
Griffin Museum of Photography by Digital Silver Imaging Gallery, 4 Clarendon Street, Boston MA