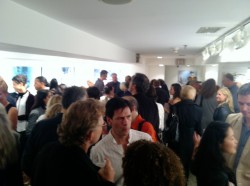 Torrential rains did little to dampen the energy or crowd gathered to celebrate our new South End location and Boston Fashion Week. Over two hundred visitors made Splashion their destination.
The crowd spilled into our courtyard out back and the front side walk. A Street Frames loaned space for a portrait gallery where Nathan Fried Lipski playfully captured guests sporting neon green pool tubes or their own array of umbrellas. Check our website for a gallery of opening shots.
This effervescent group show spans 70 years of editorials featuring water and fashion by 8 international artists. The first nude to be published in Harper's Bazaar in 1935 was shot by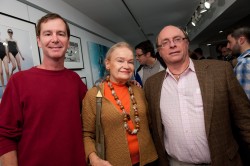 Hungarian photographer Martin Mankasci. Known for taking women out of the studio he heralded modernism and the notion of beauty in motion.
"Today the world of what is called fashion is peopled with Mankacsi's babies, his heirs." according to Richard Avedon.
German post-war photographer F.C. Gunlach and Martine Franck, one of the first women to join Magnum, are included with vintage silver gelatin prints on loan from the Howard Greenberg Gallery.
New York-based, Jodi Jones, fresh from shooting a backstage story on NY Fashion Week shoots
designer ad campaigns including a NYTimes billboard. Boston photographers Sadie Dayton, Bob Packert and Conor Doherty shared bold, new work. Find them in publications including Vanity Fair, W, Time, The New York Times, Boston Magazine, Boston Common and online in international webzines including Spirited/US, Complexed/China and Labb/UK.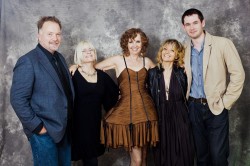 Vanity Fair contributing photographer, Howard Schatz, built an underwater studio and published his underwater study series in three books: Water Dance, Pool Light and H2O. Exhibited are five images that exemplify his range of capturing the mystical to expressing wit and power. His work is featured in Vogue, Vogue Italia and GQ Italia.
October 13th  Howard Schatz conducts our gallery talk from 7 – 8:30 PM at 4 Clarendon Street Boston. He will sign copies of, H2O and his latest book, With Child. Join us!