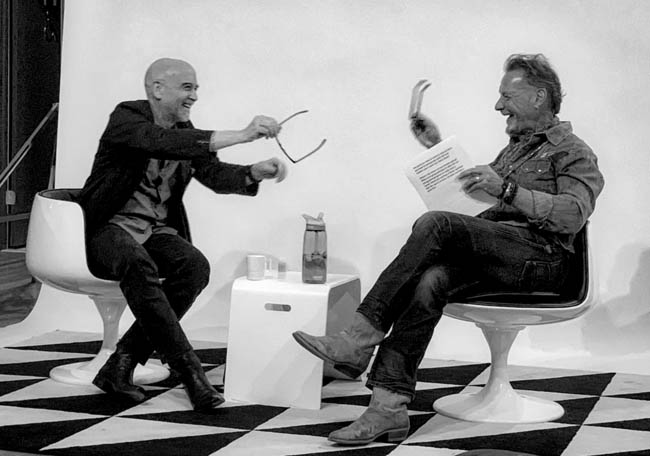 Doug Menuez and Sandro Miller continue to be creative, successful, and relevant after almost 40 years in the business of photography. On June  22, 2019, Doug Menuez and Sandro Miller generously shared volumes of valuable and entertaining information in an event hosted by Digital Silver Imaging and PhotoPolitic™. About 30 photographers and industry professionals gathered in Sandro's beautiful Chicago studio. Also present was special guest Jim Stallman Senior VP and Creative Director of Leo Burnett and four industry movers and shakers, Patrick Rynell, EVP/ECD, Ainara Del Valle, ACD/AD, Jennifer Meinders, ACD/AD, Jon Lueken, Sr. Producer.
So how do these successful photographers define "The Art and Science of Staying Relevant?" The take away is condensed into these few brief paragraphs.
Stay Creative
Personal Projects | Pro Bono Work | Fine Art | Get out of your comfort zone
Both Doug Menuez and Sandro Miller pursue personal work as part of their work/life balance. Doug believes that working with nonprofit organizations can give an editorial photographer like himself the ability to photograph new and interesting subjects with fewer limitations. Doug has also published 4 books, most notably Fearless Genius, his unprecedented documentation of the digital revolution. Fearless Genius was #1 on the Amazon Bestseller list and it continues to provide exposure as a multimedia project, film, and a traveling exhibition of prints all produced by Digital Silver Imaging. 
Sandro Miller's expansive personal work often starts with a project that becomes an entire large format fine art book. Projects like the one he did with John Malkovich or his trips to Cuba became books and many of the images end up as fine art prints for gallery sales and exhibitions. Although Sandro has a distinct style, and can be considered a portraitist, he is constantly finding new paths and subjects for his work.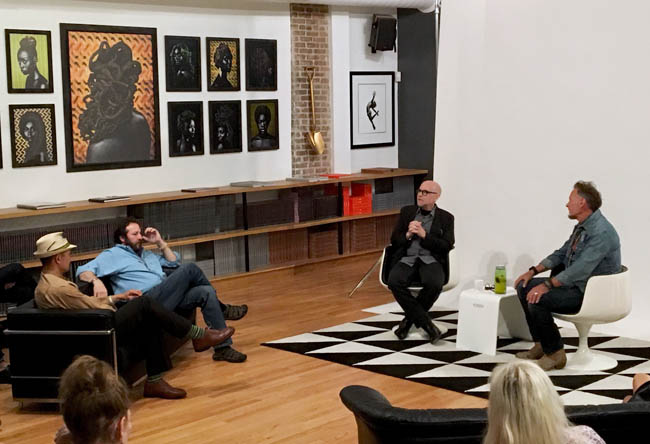 Stay Organized
Make a business plan | Strategically target your customers
According to Doug Menuez what put him on the path to success was a solid business plan and the discipline to stick to it. Both photographers emphasized that having the business acumen and the right people in that field was invaluable. Sandro Miller stressed focusing your promotional efforts on a manageable group of targeted clients/agencies and galleries. Casting too broad a net often doesn't work and can result in work the photographer is not excited about executing. Miller stated that he focuses on about 20 potential customers at a time.
Stay Above the Crowd
Use prints and printed media to stand out
The consensus was that regular posts on social media were necessary but didn't necessarily get you work. Doug said that one of his most successful and expensive promotions was his "F…You Book." It was a portfolio of work he loved (not work that everyone advised him to show, that's where the "F…You" comes in). He said that this piece got him more and better jobs than any other promotions.
The advice from Sandro was to send a signed print, as he said, "People just can't throw away a signed print." He also uses his books as a way to rekindle art director and ad agency interest in what he's doing. Both photographers have an active fine art presence, with gallery representation and the print sales supplementing their income and increasing their exposure.
Jim Stallman Senior VP and Creative Director of Leo Burnett echoed what both photographers said. He underlined the point that as a creative director he is overwhelmed with emails and electronic communications. His advice was to do something tangible that shows your own creative genius, something that represents you, not what you think someone wants to see.
Stay Informed
Research your customers | Know the brand | Be prepared for the shoot
Before you start a job, or start to promote your work to a client, know what they do. In editorial, documentary, or product work the research is the first step. Sandro stated that he might shoot for an entire week before the actual photo session is scheduled. In the preceding week he will test lighting, concepts and other aspects before the client arrives in studio. Dig deep, acquire knowledge and be prepared.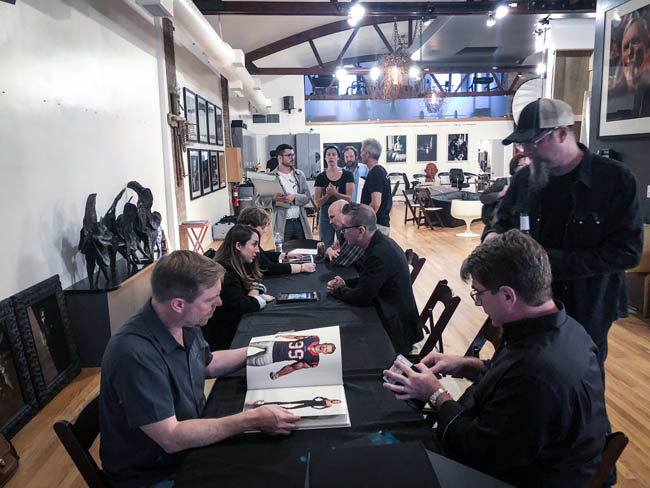 Stay Personal and Connected
Pick up the phone | Meet people | Attend Events
Doug Menuez, Sandro Miller, and Jim Stallman all agreed that photography is all about making personal connections and keeping them fresh. Don't send an email if you can call the person by phone. Expanding your community in person makes you memorable. Knowing that you can work with a person and they can work with you makes all the difference. 
This also extends to the photo shoot itself. Don't just start blasting away. Talk to your subject. Again both photographers emphasized the pre-shoot preparation. If you know your subject you can make conversation and the shoot will be more successful.
We hope that PhotoPolitic™, Doug Menuez and Sandro Miller will choose to repeat this event in the future. It might be the best $189 dollars that you can spend on your career. We'd like to thank Doug Menuez, Sandro Miller and Jim Stallman as well as Chris Armstrong from PhotoPolitic™ for asking us to play a small part. The entire day was videoed and is available to PhotoPolitic™ members. To stay informed about future events follow us, Digital Silver Imaging and PhotoPolitic™ on social media.