Join us live on Zoom as world travelers, Robb LaVelle and Craig Semetko, discuss their photography and travels in India and Nepal. Both photographers have approached these countries in dramatically different ways. Craig on foot with his Leica and Robb from the saddle of a Royal Enfield with a Nikon. These two experienced professionals will without a doubt, provide us with an hour of amazing photography, peppered with useful tips, and share their experience capturing India and Nepal's people and landscape.
Limited to 100 participants.
Presenters
Craig Semetko is an American photographer focusing on authentic human experience. Born and raised near Detroit, Michigan, Semetko became a professional comedy writer and performer after college and years later discovered photography as another means of storytelling. His comedic background has given him a highly developed sense of the absurd and ironic, resulting in a strong theme of humor throughout his work.
In his foreword for Semetko's book "UNPOSED," Magnum Photos photographer Elliott Erwitt writes, "Good photographs are tough enough to shoot. Really funny ones are even harder. Good and funny photographs observed in nature not arranged or manipulated but simply observed in real time with amazing consistency, constitute a minor miracle now presented in Mr. Semetko's book…In my book, he is the essential photographer. That is, the one who sees what others could not have seen."
"None of the images in UNPOSED were staged," states Semetko. "They were all taken spontaneously–some with the subjects' knowledge, most without. When I see something that amuses me or moves me, I just 'click.' I'm trying to provide the elements of an interesting story in a single well-composed frame, but of course, I'm not consciously thinking of that when I take the picture. In fact, I try not to think at all. Thinking constipates things."
Semetko was one of 10 photographers chosen worldwide by Leica Camera to be a part of its "10×10" exhibition celebrating 100 years of Leica photography. He spent three months in the fall of 2013 traveling throughout India for the project and the resulting work was displayed at the grand opening of the new Leica headquarters in Wetzlar, Germany, in 2014. His second book,  INDIA UNPOSED, was also born of this project and was published by StreetView Press in the spring of 2014.
Semetko spent much of 2011 and 2012 working on a long term project on the United States. The project was partially funded by a successful Kickstarter campaign and Semetko is continuing work on the series.
Semetko graduated from Northwestern University's School of Speech in Evanston, Illinois, and holds a masters degree in Consciousness Studies from the University of Philosophical Research in Los Angeles. He teaches workshops regularly for the Leica Akademie worldwide and his photographs can be found in private collections in Europe, Asia, and the United States. Semetko currently resides in Los Angeles.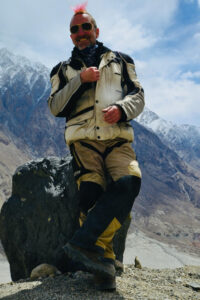 Robb La Velle – "At the impressionable age of 12, I was indelibly changed by a Christmas present from my parents. It was a voluminous, coffee table collection of deep, glossy photographs from the National Geographic. How I ever managed to get the cash together for the Nikon F3 six months later is still a mystery to me but maybe that's for the better.
The yearn for all things foreign was injected from the households of friends around the corner. Manhattan-artsy-intelligentsia with cocoa from Holland, posters urging "Atomwaffen? Nein Danke" and exchange students from Sweden sparked the earliest impulses.
Six Nikons and 84 countries later, I'm still on a roll. The cameras are now digital and the airfare is picked up by someone else, but the urge to roam remains stronger than ever. Reaching its pinnacle with a three month motorcycle ride from Los Angeles to Istanbul in 2000 and an epic seven month ride around the world in 2008, the source of many of these photographs, those life changing experiences only doused fuel on my desire for more. There are still 111 countries left to roam and ample pages in my dirty old passport.
And so, onward."
Robb is the founder of Two Wheeled Expeditions, and his photography can be viewed at Robb La Velle Photography.