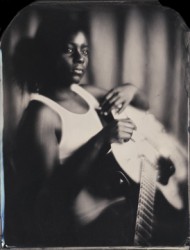 Come explore the Wet Plate Collodion process in this hands-on all-day workshop. Lead by wetplate photographer, Frank Lopez you will learn both the Tintype and Ambrotype process. Frank will teach participants how to coat glass and aluminum plates, expose, and process both wet plate mediums. All participants will leave with a tintype and ambrotype portrait that they created. All materials will be provided as well as the use of Civil War Era lenses to expose your plates. Frank will also provide chemical formulas and supply list so you can make your own tintypes or ambrotypes after the workshop.
What is the Wetplate Collodion process? The Wetplate Collodion Process was the predominate photographic medium utilized during the Civil War and was popular from 1850's to 1880's. Tintypes are unique images on blackened iron (or in this case, aluminum) that are totally handcrafted. Collodion is poured onto the metal plate, immersed in Silver Nitrate and photographed while wet. The final image is then dipped in Cyanide to fix, washed and varnished according to the original formulas. The resulting image is a unique, one of a kind image that is truly one of the special processes in the history of photography.
Ambrotypes are the exact same process, however, they are performed on glass (clear or black).
Frank Lopez is a Dallas, TX based photographer and has specialized in 19th Century techniques for over 20 years. Frank is the Photographic Instructor at Greenhill School in Addison, TX and has built an international award winning program over the last 6 years. An adjunct professor, Frank's work has been exhibited nationally and is held in numerous private collections. During the summers, Frank teaches a cultural immersion class for Greenhill School in China and Korea and specializes in photographing the Cultural Landscape with a pinhole camera. He is a recent of Greenhill's highest award, the Faculty Leader Award and is a recent recipient of the Dallas Observer's Mastermind Award, recognizing an artist or organization making significant cultural contributions to the Dallas/Fort Worth Metroplex. Frank lives in his Fair Park studio with the most interesting dog in the world, Sparky and travels whenever he can. His imagery may be viewed at www.franklopez.com.
This workshop is being hosted by Digital Silver Imaging and Stan Godwin Photography. June 23 & 24 workshops will be held at Digital Silver Imaging in Belmont, MA and June 25 & June 26 workshops will be held at Stan Godwin Photography in Brewster, MA.
Workshop 1, Saturday, June 23,  Location: Digital Silver Imaging, 9am to 5pm, Location: Digital Silver Imaging, Belmont, MA
Workshop 2, Sunday, June 24,  Location: Digital Silver Imaging, 9am to 5pm, Location: Digital Silver Imaging, Belmont, MA
Please note that we incorrectly advertised the dates below on our email, sorry for any inconvenience.
Workshop 3, Tuesday, June 26, Location: Stan Godwin Photography, Brewster, MA
Workshop 4, Wednesday, June 27, Location: Stan Godwin Photography, Brewster, MA