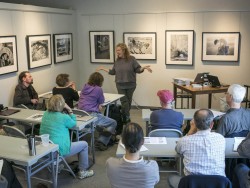 A clear, late Spring day in Massachusetts was a perfect setting for a digital infrared workshop with instructors Laurie J. Klein and Kyle Perler. The workshop, Digital Infrared Photography 101, was taught to a sold-out crowd of 15 photographers. The biggest surprise of the day was that over half of the participants fell in love with the magic and mystery of infrared  during the film days of Kodak HIE High Speed Infrared Film! These intrepid photographers used changing bags, red filters, and the quirky film to capture IR. Now they are embracing digital infrared and a much simpler production process.
This workshop was scheduled to coincide with an exhibit of infrared photography titled, Beyond the Visible Spectrum. The exhibition featured the work of 4 artists that use infrared photography to create images of ethereal beauty. The work of Laurie J. Klein, Ron Rosenstock, Tony Sweet and Carl Stoveland provided inspiration and a teaching vehicle to workshop participants. Laurie utilized the prints on display as her introduction to the art of IR photography.
As Laurie stated, "One of the most challenging aspects of infrared capture is being able to pre-visualize in a non-visible spectrum. Learning how to interpret in IR.  Foliage comes out white yet the bark of the tree branches come out dark so composing is different then with color or B&W capture.  Some black fabrics come out white, some black. Red roses come out white, purple flowers come out darker. "
Many participants admitted that one of the reasons they love IR is there is often a gift that happens, something they didn't see in the viewfinder or expect. Because the photographer is not working with a light source she can see, not all outcomes are predictable, that is the "magic" of IR.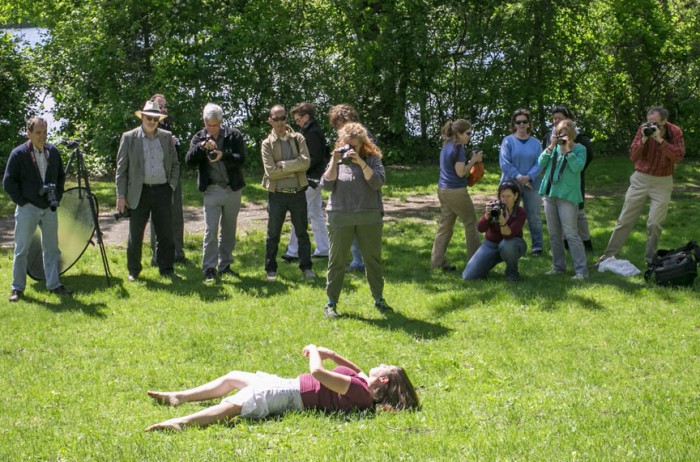 Laurie and Kyle also brought in a model for a few hours and went out shooting at a pond near Digital Silver Imaging. Laurie also brought a Cam Ranger, which she tethered to her camera and laptop so the students could instantly see what the images being produced looked like. This allowed Laurie to discuss composition, what a good IR histogram looks like, exposure, ISO and custom white balance.
After a group photograph, it was back to the classroom and Kyle worked with the group on after capture. Using a variety of methods from Photoshop, Lightroom and Nik Pluggins: Color Effects Pro and Silver Effects Pro.  Kyle stepped the class through several images from raw to final, spending a good deal of time on retouching eyes, as eyes can go very dark and have an extremely haunting quality to them when photographed with IR.
Participants responded to Laurie and Kyle's instruction with overwhelmingly praise and we hope to have the team back soon for another workshop and perhaps even an advanced session.
Join Laurie J. Klein 7/13-7/18/14 in beautiful Santa Fe, New Mexico for her workshop : Creative Infrared Photography
Laurie's new book: Photographing the Female Form with Digital Infrared