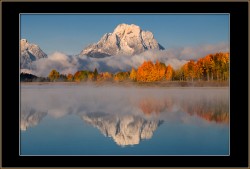 I had the pleasure to talk with Russ Burden about photography tours and trips. Russ is a renowned nature photographer, author and contributor to Outdoor Photographer, Popular Photography, PHOTOgraphic, www.takegreatpictures.com. Russ has lead over 100 photography tours and is a fulltime workshop leader. Russ was kind enough to answer some questions about the ins and outs of photo tours and trips.
Q: How long have you been organizing and leading nature photography tours?
Russ: 20 plus years, full time since 2000. I run about 10 a year, all over the US mostly in the West, the Pacific Northwest and Florida.
Q: Do you have a favorite location for a nature photo tour?
Russ: That's tough because I love doing them all. Close to the top of the list for me has to be the Tetons, especially in the fall. The landscape, the colors, the wildlife, and the light is beautiful. Having said that, they are all my favorites. All the trips I lead are great and each trip is different. So in a way my favorite is the last one I took.
Q: How long do you typically spend on a trip like the one to the Tetons?
Russ: Those trips are 10 days because the photographic possibilities are too great for a short one. The majority of my tours run for 7.
Q: Why not a short trip, like 3 days for instance?
Russ: That would make it too rushed and also at times the weather is a factor. My last trip to Florida, that focused on aquatic birds, we had terrific weather for every sunrise and sunset but that's not always the case. For example, if you go on the trip to Monument Valley and you want that iconic shot of the dunes and it is raining, you miss that opportunity. With a week or 10 days, I can shuffle the schedule around so if we have a break in the weather, we can take advantage of it.
Q: Sometimes you can't control the weather. What if the weather just isn't cooperating?
Russ: I do a lot of advance work preparing the participants on what to expect. We shoot if the weather is great or not so great. On a recent trip to Canyon Lands we set out in the rain and pulled up to the scheduled location and sat in the van. We were chatting about various things and all of a sudden the rain stopped. We got out of the van, the clouds parted and we had a double rainbow. If you sit in the hotel you miss that. I wrote a piece in Outdoor Photographer
about just this subject. http://www.outdoorphotographer.com/how-to/tip-of-the-week/a-mist-shot-better-fog-photography.html. I am driven to give the participants a good experience on my tours.  A not-so-perfect day can also be a good teaching opportunity. Overcast conditions are great for flowers, macro work and some wildlife.
Q: What makes a good trip leader?
Russ: Someone who really knows the location. I never take anyone on trip where I haven't been multiple times. It's also about the time of year and knowing what to expect during that season.  A good leader knows how to plan so I have my students bring their laptops so I can teach them Photoshop or show them other tools like Nik Software when we have down time. I also keep the number of participants low so my instruction can be one-on-one. I find it next to impossible to make a great outdoor image when you are in a big group. It's hard to keep 20 people quiet when that rare bird appears out of nowhere. To get back to your question, it's about passion and love of photography and I want to share that with others.
Q: Let's say that all your trips are booked, how does someone find a great nature photography trip/tour?
Russ: First you look at the track record of the leader. If he/she has been doing this for a while chances are they know what they are doing. Pick up the phone and talk to the trip leader. Do you feel comfortable with the level of knowledge of the leader. Will the leader be actually teaching or is he/she simply a tour guide? Does the leader have experience teaching? Does the trip leader take the kind of photographs that you want to take? Ask the leader how many times they have run the trip? How well do you know the area? Do you know the roads?  Experience is very important.
Q: How should someone evaluate the price/value of the trip?
Russ: I believe that the number of people going is the most important factor. I only take 5 people because I want to teach them what I know. The hotel, food, transportation that is all just a fixed cost. The hotels need to be clean and comfortable, the food good, but for me its about the photography. My trips are very competitively priced, I know the areas, the great places to shoot, where the wildlife is, and I am passionate about photography and that enthusiasm spreads throughout the group.
Q: What lets you know that your trip was successful?
Russ: When my customers tell me they wish the trip wasn't over. When they thank me for teaching them how to read the light. When they leave with great images. Those are just some of the measures of a good trip. Of course, when we have a great time, which is easy when you are in a beautiful place making photographs. I also get a lot of repeat customers, so I think that says a lot.