Overview
For the 50th anniversary of the Freedom Riders' historic trip, the Mississippi Governor and his wife hosted a breakfast in the honor of the Freedom Riders at the Governor's Mansion. For the occasion Marianne Todd, the official photographer for Governor and Mrs. Haley Barbour, was asked to assemble an exhibition of black and white images titled "Mississippi Healing." The exhibition featured images of the trial of reputed Klansman Edgar Ray Killen and the Freedom Riders who came to support the victims in the case.
Problems: Creating a quality black and white photography exhibition on a budget. Transporting and storing 20 framed photographs economically.
When Marianne contacted Digital Silver Imaging she was interested in fiber base black and white prints. Her intention was to do the framing locally. She had been recommended to Digital Silver Imaging for printing by a fellow photographer but was unaware of DSI's experience in working with artists and galleries to mount exhibitions.
Solutions: Artcare prefabricated frames and mats, Custom shipping / storage container
We discussed the challenges presented by the "Mississippi Healing" exhibition; need for the highest quality prints, quick turnaround and a tight budget. The solution came by providing images in two formats 8×12 and 11×17 fiber prints, ten of each size.
Economy was achieved by utilizing the prefabricated Nielsen Artcare frames with precut archival mats. No aesthetic compromise needed to be made because the Artcare frames and mats are museum quality, plus they look terrific. They also use high quality UV glass for image longevity.
The next hurdle was shipping. The exhibition would be a gift to the State of Mississippi. After the exhibition ended, the images would need to be stored or transported to another location for display.  Originally Ms. Todd wanted a crate constructed to contain the images. This option proved to be too costly and much too heavy to transport without some kind of mechanical aid. The solution was to construct 2 special boxes made of double walled corrugated acrdoard and lined with foam core.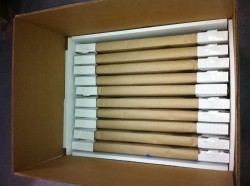 The finished boxes are extremely sturdy and reusable. Because they weigh much less than a wooden crate the shipping cost is much lower, without any special size and weight considerations. A capable adult can move either box.
After the exhibition Marianne sent DSI this message: "Thank you so much for everything. The printing was beautifully done, and the framing was perfect. Loved the shipping, too. I can easily see why my friend recommended you all."