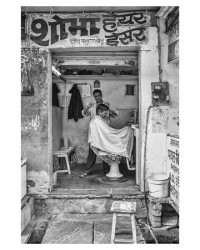 Leica Camera invited 10 photographers from around the world to participate in an extraordinary event. These photographers would be paired with their artistic "fathers" and asked to shoot a series of images with that person in mind. Craig Semetko's creative progenitor was Elliot Erwitt and with Erwitt's influence to inspire him Semtko set off for India in the summer of 2013.
 "India is a street photographer's dream. The people are extraordinarily welcoming—they do not mind having their pictures taken, in fact, they usually welcome it…"
Craig Semetko is one of the best street photographers practicing the craft today. Craig was gracious enough to allow us to use four of his images form his India trip in this post. These photographs along with many others are included in an exhibition currently showing through 5/25/14 at the Leica Gallery Los Angeles, 8783 Beverly Blvd.,  West Hollywood, CA 90048.
This body of work is also now available as a limited edition book, "India Unposed." Sure to be a collector's item, you can find the book by visiting the link below.